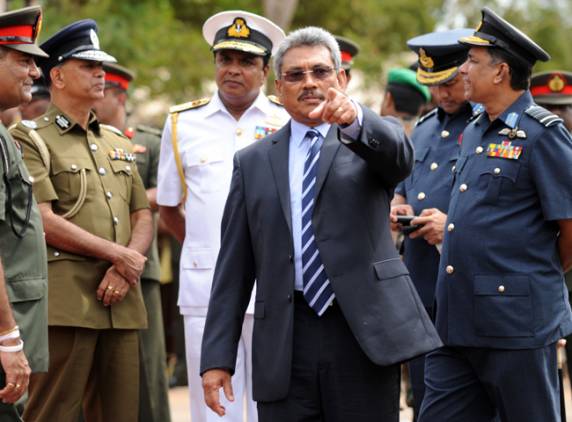 Yesterday, Canadian lawmaker Gary Anandasangaree called on his government to impose sanctions on former Sri Lankan President Gotabaya Rajapaksa and his brother Mahinda Rajapaksa, days after they lost their immunity from prosecution.
Gotabaya Rajapaksa fled Sri Lanka last week and is currently in Singapore, where he resigned as president. By stepping down, he lost all official immunity, part of the reason commentators say he fled as he feared prosecution.
To press conference in Ottawa on Wednesday, Anandasangaree said "Now more than ever, it is imperative to ensure that leaders who commit atrocities are held accountable."
"The successive failures of the international community to consistently enforce and respect the rules-based international order have resulted in international impunity and allowed people like the Rajapaksa brothers to move freely," he said. for follow-up.
"I therefore call on our government to impose sanctions on both Gotabaya Rajapaksa and Mahinda Rajapaksa for their role in the atrocities committed in 2008 and 2009."
Photograph: A scene of devastation in Mullivaikkal pictured days after the Sri Lankan army invaded the area in May 2009.
The brothers led a military offensive that killed tens of thousands of Tamils at the time, and is increasingly recognized as genocide, including by the Parliament of Canada.
Anandasangaree also revealed that he had written to Singapore's foreign minister expressing his disappointment at allowing Gotabaya Rajapaksa to enter the country and calling on local authorities to prosecute him under the principles of universal jurisdiction.
"I reiterate the many calls from the Office of the United Nations High Commissioner for Human Rights for Member States to exercise their universal jurisdiction and prosecute those who have committed atrocities in Sri Lanka in their local jurisdiction," Anandasangaree added. .
His appeal to Singapore comes as local Tamils ​​have also expressed their opposition to the presence of Rajapaksa in the country.
"Under the orders of Gotabaya Rajapaksa and these other military and political leaders, hospitals were repeatedly and intentionally bombed by the Sri Lankan Armed Forces, artillery was used indiscriminately and disproportionately against civilians in the so-called fire-free zones and LTTE fighters. as well as Tamil civilians and children were ordered to be executed in violation of the laws of war," said Archana Ravichandradeva, Executive Director of People for Equality and Relief in Lanka (PEARL).
Ravichandradeva continued that the appointment of Ranil Wickremesinghe as the last president of Sri Lanka "will continue to lack national accountability for Rajapaksa's genocidal campaign."
Responding to a question from the Tamil Guardian, Anandasangaree said that "it is no secret that the Rajapaksa family assisted in the rise to power of Ranil Wickremesinghe".
"For this reason, it is vital that the international community, including Canada, ensure accountability and justice for Tamils," Ravichandradeva added.
"Now that he is no longer protected by immunity, he and other alleged perpetrators of mass atrocities in Sri Lanka must face justice and be held accountable. Sanctions are an important tool in the accountability toolbox and we call on the Canadian government to sanction former President Gotabaya Rajapaksa, former President Mahinda Rajapaksa and other key military and political leaders.
"Wherever these perpetrators of the world's worst crimes end up, countries should exercise universal jurisdiction to hold them to account in their national courts. We also urge Canada to pursue action against Sri Lanka before the International Court of Justice and to call on the International Criminal Court to explore opportunities to investigate and prosecute the mass atrocities committed by Sri Lanka against Tamils.
Venoth Navajeevanantha, President of the Tamil Community Center of Quebec, reiterated her remarks, saying that it was "important that Canada continue to be a safe haven for refugees and provide them with opportunities for healing and prosperity, and send a strong message to the war criminals of Rajapaksa that they will be held accountable.
"It is clear that the current crisis has deep systemic roots and it will be vital for key stakeholders to address the underlying root causes by pushing for reforms and strengthening the rule of law," said Farida Deif, Canadian Director of Human Rights Watch.
"Ottawa should also urge Sri Lankan authorities to investigate and prosecute official corruption and freeze all assets in Canada if they are suspected of having been obtained from corruption," Deif continued.
"The Canadian government should make sure the warning signs are heard by taking concrete action now.
See the full press conference below. See our live Twitter coverage here.