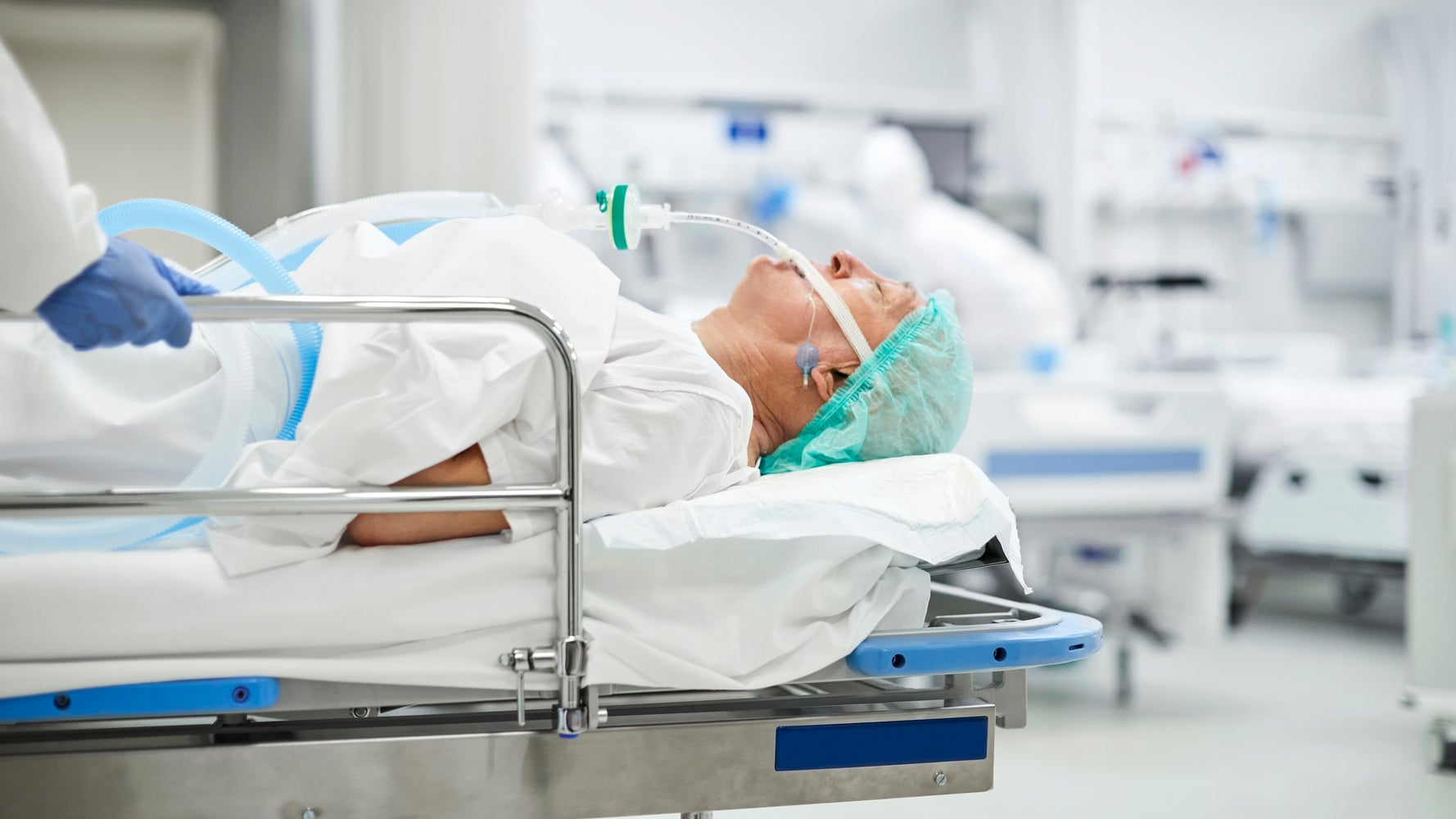 The UK coronavirus vaccine rollout began in December 2020 and the UK government quickly claimed it was one of the best in the world.
It is certainly the largest immunization program the country has ever organized. So far in the UK, 50 million people have received a single dose of the vaccine and 45 million have received both doses. A single dose is also offered to 12 to 17 year olds, although younger people seem slower or more reluctant to receive a vaccine.
However, with the increase in cases, hospitalizations and deaths – cases of Covid reached their highest level since the start of the pandemic last week – serious questions have been asked about immunity and its decline.
Dr Susan Hopkins, chief medical adviser at the UK Health Security Agency, told the BBC's Andrew Marr Show on Sunday: "We are still seeing deaths in mainly the unvaccinated population… also in the vaccinated group.
The majority of these deaths occur among the elderly, she said, particularly those over 70, as well as among those who are clinically vulnerable and those with underlying health conditions.
"As we mentioned, the immune effects wane and what we see, especially in the older or vulnerable groups, are the people whose immunity will wane the most," Dr. Hopkins said. "So if you are healthy 30 years old, two doses will protect you longer. That is why [older and vulnerable] people should show up for their third dose as soon as possible.
Booster jabs are a key part of the government's winter plan. Those over 50 are priority to receive the booster first, as well as anyone who is clinically extremely vulnerable or between the ages of 16 and 65 in a risk group.
With reported delays in deployment and six months after many people's second jab, here's what you need to know about the "immune gap" between vaccines and boosters.
How long do Covid vaccines protect us?
From the start, scientists knew that the effectiveness of the three main vaccines was likely to decline about six months after a person's second dose, which prompted clinical trials for booster shots over the summer and months. plans for a fall deployment.
Data from the Zoe Covid Study app, which prompts users to register Covid-19 vaccines to monitor their side effects and effectiveness, also indicates the decreased protection provided by two doses of the Pfizer / BioNTech coronavirus vaccines and Oxford / AstraZeneca in the six month period.
Analysis of the app's data suggested that the Pfizer jab was 88% effective in preventing Covid-19 infection one month after the second dose, but after five to six months the protection decreased to 74% . The AstraZeneca vaccine offered 77% protection against infection one month after the second dose, but after four to five months the protection decreased to 67%.
"Decreasing protection is to be expected and is no reason not to get vaccinated," Professor Tim Spector, senior application scientist, said in August. However, he has since pointed out that a specific plan is needed for boosters in particular.
"If you've had a natural infection and two injections, it's basically like you already have your booster," Professor Spector told Sky News. "We need a much more specific way of giving reminders if this is to be effective."
An estimated 30 million people across the UK will be eligible for a third booster vaccine – starting with those in priority groups most at risk for Covid. So far, nearly 10 million people in the UK have received a recall.
Professor Neil Ferguson of Imperial College London has already insisted on the need to speed up the deployment (as well as vaccinate 12 to 17 year olds).
"We have weaker functional immunity in our population than most other Western European countries for two reasons," he told the BBC's Today program. "In part, we've been very successful in rolling out the vaccination early and we know that immunity gradually wanes over time after receiving that second dose, so our earliness means we're a bit more vulnerable."
John Roberts of the Covid-19 Actuaries Response Group said the insufficient number of people eligible for their recall who have not yet received one has increased by around 800,000 per week.
Also speaking to the Today program, Roberts said: "If you plan to [the data] forward, it's probably going to take us until January before we get through those first priority groups.
At the start of the recall campaign, Health Secretary Sajid Javid said: 'We will protect the most vulnerable during the winter months'. But at the current rate, it will be necessary to pass the winter before passing through these first groups. "
When can the youngest expect to receive a booster?
The Joint Committee on Immunization and Immunization (JCVI) has so far given the green light for booster injections to be given to people over 50, frontline health workers, workers and residents of nursing homes, and certain clinically vulnerable people and their families who are considered to be at high risk of Covid infection.
Those under 50 are unlikely to be offered a booster anytime soon, as the NHS struggles to convince those who are eligible to take it. When asked when the Under 50s would get the jab, a JCVI member told the i: "We haven't discussed this yet and I think it would probably be well after Christmas."
They added: "When you think about how long most of these people had [their second jab], they are still in the six month range. And keeping in mind that a lot of people will have had Covid – they're essentially triple covered. "
How long does "natural" immunity against Covid last?
Coronavirus antibodies from a natural infection can last for at least six months for the majority (88%) of people who have had the virus, according to a UK Biobank study. The researchers said the results indicated that antibodies produced as a result of natural infection could "offer a degree of protection to most people."
However, Professor Naomi Allen, chief scientist at UK Biobank, says we cannot be sure about the relationship between these antibodies and immunity.
And levels of natural immunity can vary within the population. According to a new analysis from the Zoe Covid Study app, 81% of participants who took an antibody test after a known Covid-19 infection tested positive for anti-N antibodies – the antibodies acquired from natural infection, not vaccination.
But 19% of participants, or one in five, who had previously had an infection, tested negative for anti-N antibodies. This means that they could be at an increased risk of future Covid-19 infection compared to those who have developed antibodies, and potentially at the same level of risk as those who were not infected.
Should we be worried about the "immune gap"?
Immunity to infection is declining among the British population, it is clear, and current vaccines are not as effective in preventing infection with the Delta variant, says Professor Paul Hunter, an infectious disease expert at the University of East Anglia. But he points out that immunity to serious illness is stronger after vaccination – and just as effective in preventing serious illness from Delta.
"The main goal of vaccination has always been to reduce the risk of serious illness. Vaccination was never going to achieve herd immunity, "he told HuffPost UK.
"So, no, not everyone needs a booster, at least still, only those who are most likely to have a more serious illness. Plus if we started offering reminders to everyone , this would further delay the vaccination of people in less wealthy countries who really need their first course. "
Dr Julian Tang, Honorary Associate Professor and Clinical Virologist at the University of Leicester, agrees booster shots are important, but echoes Professor Hunter's point of view that we need to focus on increasing global rates vaccination.
"From a virological point of view, in general, boosters always help boost and improve immunity to the vaccine," he told HuffPost UK. "But we also need to increase vaccine coverage worldwide – to reduce the generation of new variants which may include some with higher vaccine transmissibility, lethality and evasion properties than Delta."
How can we better protect ourselves now?
Dr Tang says we must remain vigilant. Maintaining a degree of masking and social distancing like other EU countries is important, he says, "to control the virus to a level manageable by the NHS, while vaccine boosters are being rolled out to the most vulnerable ".
As he sees it, "The dropping of all masking and social distancing restrictions on July 19 was predictably going to lead to what we are seeing now with higher indoor mixing rates with bigger crowds in the UK, which is likely to get worse around Christmas – as we saw last year.
Professor Hunter adds that we need to be as vigilant about the flu as we are about Covid.
"What keeps me more awake at night than the rising Covid is a flu epidemic this winter when we still have a lot of Covid around," he says. "The Sars-CoV-2 virus is becoming endemic and will be here forever, but will end up like other coronaviruses – becoming one of the causes of the common cold. While hospitalization rates have been steadily declining for some time, they may start to rise, and that's a concern. "
So her advice is to get the booster shot now if you are in one of the older or more vulnerable groups. "Even if you are not in the above group, if you are called. make sure you have your reminder, "he adds. "Also, if offered, your flu shot."