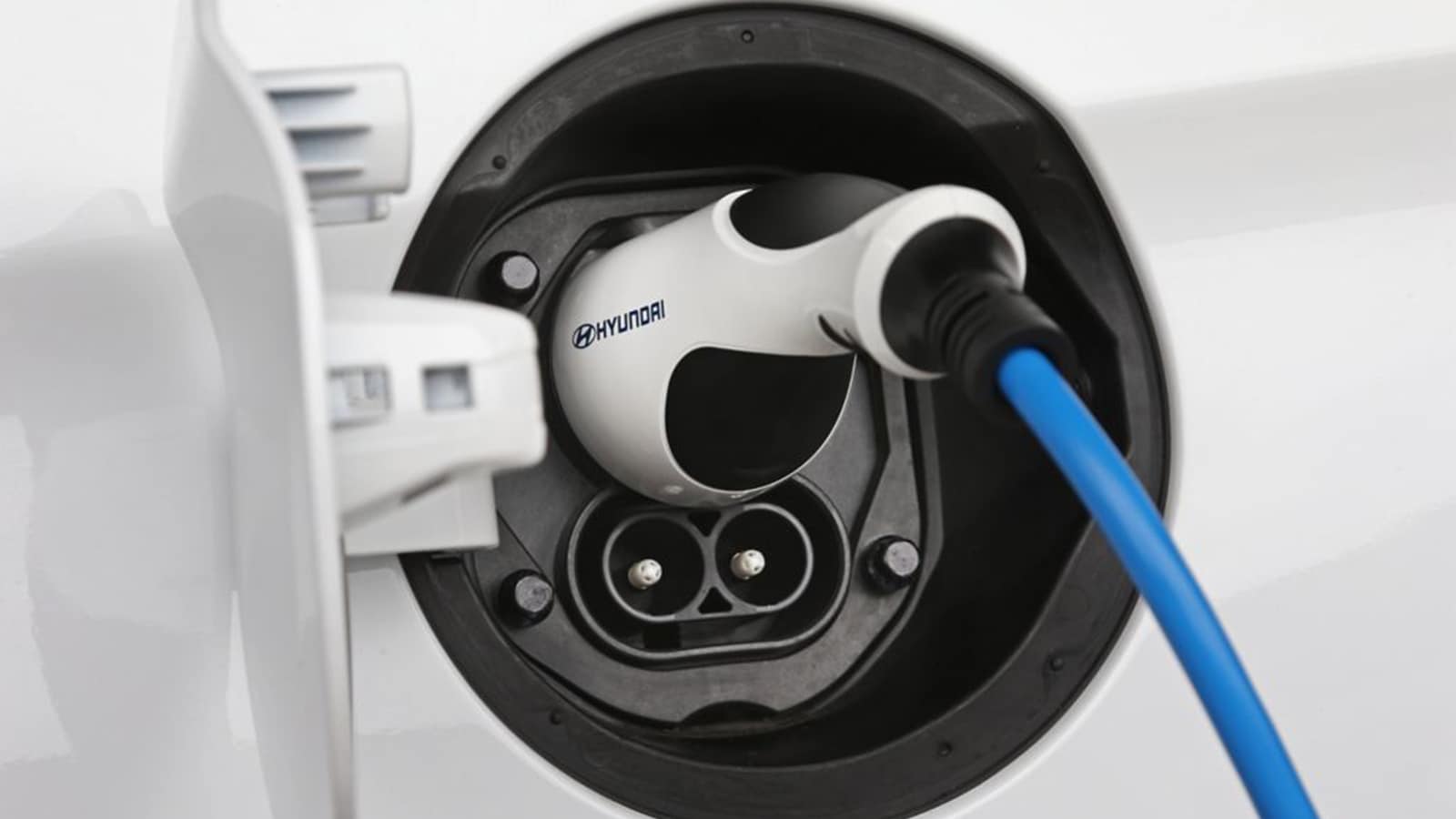 The 2022
Hyundai Ioniq 5
is an innovative all-new electric car with a distinct design and a starting price of $39,950. Built on the
Electrical Global Modular Platform
(e-GMP), this compact SUV is one of the fastest charging electric vehicles available today.
Keep reading to find out how to charge an Ioniq 5.
Contents
Hyundai Ioniq 5 battery options
The base model of the standard Hyundai Ioniq 5 SE range has a 58 kilowatt-hour (kWh) battery. It is a rear-wheel-drive (RWD) compact SUV with a total range of up to 220 miles at full load. It charges from 10% to 100% in about five hours using a Level 2 charger connected to a 240-volt outlet.
SE, SEL and Limited trim levels have a longer-range battery of 72.6 kWh. These are available in both RWD and All-Wheel Drive (AWD) models. The RWD option has an estimated total range of 303 miles, while the estimated range for the AWD model is 256 miles.
Dependent vehicle function
You can tap into the power of your Ioniq 5's battery with vehicle-to-charge (V2L) capability. The V2L function allows you to power other electrical devices from inside the car. This innovative technology is ideal when you're on the go and need to power things like camping gear, scooters, projectors, phones, laptops, or even another electric vehicle.
A power converter connects to the exterior charging port or the socket under the rear seats. It uses stored battery power to deliver up to 3.6 kilowatts (kW) of electricity. This feature works even when the vehicle is turned off.
The V2L connector is not included when you purchase a new Ioniq 5, but you can purchase the accessory separately.
RELATED: Electric Car Rebates and Incentives: What to Know by State
How to Charge a Hyundai Ioniq
Put the vehicle in the "P" position, apply the parking brake and turn off the car. There are several ways to open the loading door. You can touch and push the surface of the door, press the button on your key fob or use voice recognition if you have already set it up on the MyHyundai Bluelink mobile app. From there, connect the charging cable and start charging.
The estimated charging time will be displayed on the dashboard. When your charging session is over or you need to get back on the road, remove the cable from the connection point and put the plug back in the charging station case. The charging door should close automatically when you remove the cable.
Home charging
Level 1: A 120-volt portable charging cord is included with the purchase of a new Hyundai Ioniq 5. This charger connects to a standard household outlet and provides between 6 and 12 amps of power. Level 1 charging is significantly slower than other charging options.
This method will only increase your battery level by minimal amounts, even when plugged in overnight. Hyundai estimates that the portable charger will take around 58 hours to charge from 10% to 100% for the standard range battery and 68 hours for the long range battery.
Level 2: A Level 2 charging station is recommended for routine home charging. This setup requires a 240 volt outlet on a dedicated circuit. It powers your battery with alternating current (AC), providing a faster, more consistent charge than a standard 120-volt household connection. It will take almost six hours from a low battery to charge the standard range battery to 100%. The long-range battery takes just over seven hours to reach 100% with a Level 2 charger.
Level 2 home charging stations require professional installation by a licensed electrician. hyundai recommends home chargers greater than 10kW for the Ioniq 5. The electrician will need to install a 60 amp circuit breaker in your electrical panel to accommodate the power output.
If you live in an apartment building or other multi-unit dwelling, check with your property manager for available options. Many complexes are installing charging stations for residents as electric vehicles become more common in these residential spaces.
RELATED ARTICLE: Electric Vehicle Charging Label Guide
Public charging
Level 2: When you're on the go, level 2 public chargers are usually easy to find. Look for them in busy areas like grocery store parking lots, malls, office parks, and outside major hotel chains. Check the blue link app to help you locate a public charging station in your area.
These chargers are usually equipped with different types of connectors to adapt to various models of electric vehicles, including the Ioniq 5, which uses a CCS input port.
Level 3: DC fast chargers are widely available and also stationed in populated areas of the country and interstate exits. These charging stations supply your battery with direct current (DC) for a more immediate boost. Fast chargers are great for road trips and long trips. However, Hyundai advises that battery performance and durability may deteriorate if DC chargers are used continuously. For good battery health, plan to use a Level 2 AC connection as your primary charging method. This betting practice will help keep your high voltage battery in "optimal condition".
Quick Charge
The Hyundai Ioniq 5 is one of the fastest electric vehicles on the market, with a charging capacity of 800 volts. It can go from 10% to 80% state of charge in as little as 18 minutes when connected to a 350 volt DC fast charger. If you're short on time, you can always boost the battery to 62 miles in about five minutes using a high-voltage rapid charger.
Charging speed and time estimates vary based on several factors, including outside temperature, current battery levels, vehicle settings, and more.
Where to charge the Ioniq 5
You can charge the Ioniq 5 at home through your home charging station setup or at public charging stations. Simply locate the CCS connector cable, plug in the charger following the instructions above, and power on.
Hyundai has partnered with Electrifying America provide two years of free recharge for their network owners. It's one of the largest fast-charging networks in the country, with over 700 locations across the United States.
Each free DC fast charging session is capped at 30 minutes, and level 2 free charging sessions are capped at 60 minutes. You can register for the program via the Electrify America app.
Read related articles: