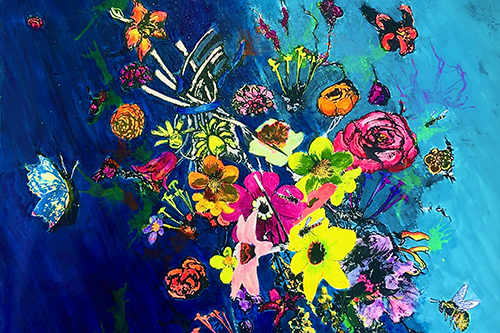 [ad_1]
How do bees visualize and interact with flowers? A summer exhibition of art and science that uses a blend of the most innovative interactive technologies, including augmented reality (AR), inspiration from 17th century Dutch flower paintings and the latest scientific research into the symbiotic relationship of plants and insects, opens at the University of Bristol Botanic Gardens next week [Tuesday 6 July].
"Displays Decoded": the multisensory language of flowers, will allow visitors to interact with the natural world in a unique way. The original artwork is the work of artist Alex Hirtzel, who collaborated with the University's behavioral ecologist, Dr. Dave Lawson, and his colleagues at the School of Biological Sciences.
At a time when insect populations continue to decline, recent research by scientists in Bristol, and led by Dr Lawson, has revealed previously unknown ways of attracting pollinators and interacting with plants , which are collectively known as "sensory modalities".
Through interactive sculptures, ultra-violet prints, and heat-sensitive materials, Alex's work demonstrates some of the main modalities: fragrance, UV light and color patterns, static attraction, and the cellular structure of the flowers themselves. . His work recreates 17th-century Dutch flower paintings from the Broughton Collection at the Fitzwilliam Museum, Cambridge into a series of prints titled "Tipping Point," with vases overturned to reflect the current global ecological crisis.
Other aspects of her work are more interactive, and visitors to the Garden will have the opportunity to experience for themselves how bees and other pollinators perceive static electricity in flowers or are affected by the scent of a flower. .
Alex Hirtzel, speaking on the exhibit, said: "COVID-19 made me rethink how to present ideas to a wide range of audiences and I chose to use augmented reality (AR) as a medium to express more scientific storytelling and the need for playful interaction. . "
Dr Dave Lawson added, "There are aspects of flower arrangements that are obvious to us as humans, such as scent and vision, but there are many lines of communication used by flowering plants that are hidden from us. It's so exciting to work alongside Alex Hirtzel. and the Botanical Garden on a project that reveals these hidden facets of flower arrangements to a wider audience. "
Inspired by Dr. Lawson's research, which focuses on the hidden aspects of flower arrangements and the effects of these elements on foraging pollinators, Alex has created multimedia works that highlight how a bee visualizes and interacts with the flowers.
In these latest series, Alex uses materials that require interaction in order to discover the invisible world of the bee. When working with fluorescent paints the color is very strong and is designed to represent the way a bee sees a flower. An activity that the work needs by the viewer is therefore a metaphor for involvement. Alex wants the viewer to take an active role in ensuring that bees are at the heart of a natural and healthy future.
Nick Wray, Curator of the Botanical Garden, said: "After not having been able to organize any events at the Botanical Garden for over a year due to the COVID-19 pandemic, we are truly delighted to host this exhibition and to d " welcome visitors again. .
"We worked closely with Alex and Dave, and the exhibit will allow people to experience the complex, multi-layered ways in which pollinators interact with flowers."
As an art historian, Alex is particularly interested in the 17th century, as it was a time of exploration with new flowers arriving in Holland as a result of trade and scientific discussions to understand how Plant. Nowadays, new techniques and technologies have revealed how flowering plants act as billboards to attract insects so that the flowers can reproduce.
This art and science exhibition will be of interest to those passionate about art, science, history, wildlife, new technologies and all those interested in the natural environment. Visitors will also have the opportunity to enjoy a workshop with Alex and tours of the garden with behavioral ecologist Dr Lawson.
The exhibition was funded by the University of Bristol and Lottery Funding via Arts Council England.
"Displays Decoded": the multisensory language of flowers at Bristol University Botanical Garden, The Holmes, Stoke Park Road, Stoke Bishop, Bristol BS9 1JG, will be open to the public from Tuesday July 6 to Thursday September 30, 2021 from 10 a.m. to 4.30 p.m., seven days a week, including including public holidays.
Admission: Adults: £ 5, (£ 7 with open greenhouses) Free for children under 18, Friends of the Garden, University staff and all students. Tickets must be booked in advance via the University online store.
More information
Arrival at the Botanical Garden
Parking is available on Stoke Park Road and around the Downs (five hours of free parking). For Blue Badge holders and people with reduced mobility, parking is available in the enclosed garden car park. For more details on public transport, visit www.bristol.ac.uk/botanic-garden/visit/find-us/
About Dr Dave Lawson, University of Bristol Behavioral Ecologist
Dr Lawson is a behavioral ecologist interested in animal behavior and plant-pollinator interactions. He works primarily with bumblebees using behavioral laboratory experiments, and his research examines why flowers produce such complex multi-sensor displays and the effects of rain on flowering plants and their pollinators.
About the University of Bristol Botanical Garden
The botanical garden has a strong evolutionary theme and cultivates over 5,000 plant species forming four core collections that illustrate the evolution of plants, plants of Mediterranean climates, useful plants (including Chinese and Western herb gardens) and rare and endangered native plants of the Bristol area.
Top attractions include an incredible coomb demonstrating the evolution of land plants, including favorite plants of dinosaurs: ginkgo trees, cycads, tree ferns, monkey puzzles and the Wollemi pine. Other delicacies include greenhouses, which house giant Amazonian water lilies, tropical fruits and medicinal plants, orchids, cacti, and a unique collection of sacred lotuses.
The contemporary design of the Botanical Garden, its strong emphasis on education and the interpretation of science make it a unique location for the Impossible Garden exhibition.
The Botanical Garden is wheelchair accessible and the brochure will be available in audio and braille.
[ad_2]