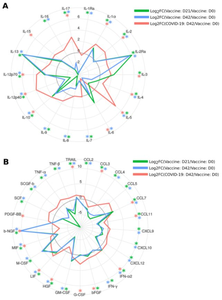 The contributors are the Federal University of Kazan, the Kazan State Medical Academy, the Thapar Institute of Engineering and Technology and the University of Liverpool.
Sputnik-V, a COVID vaccine from the Gamaleya Institute in Russia, was the first nationally registered vaccine in the world and is currently in use in more than 50 countries. It has shown good efficacy with a relatively low number of serious side effects.
The research aimed to discover the specifics of immune reactions to Sputnik-V in populations inoculated in Kazan (the city where the Federal University of Kazan is located).
Studies have shown that even the first dose can initiate an immune response, and the second dose elicits a more robust response that can be detected three months after administration. The reaction involves both antibodies and T-cell immunity. Additionally, the team has proven that the immune response of those vaccinated and those who have recovered from COVID is basically the same, which means the vaccine is effective against local viral variants. The conclusions are supported by data from the localization of immunogenic epitopes and the analysis of viral mutations.
Co-author, professor KFU Albert Rizvanov comments: "Sputnik-V elicits both antibody and T cell immunity. In this article, we have specifically investigated a three-month delay after vaccination. At this point, the response was strong, which may prove the existence of long-term immunity. "
The study was approved by the local Ethics Committee of the University of Kazan.
---
Newspaper
International Journal of Molecular Sciences
Research method
Observational study
The title of the article
Long-term immune response produced by the SputnikV vaccine
Publication date of the article
18-Oct-2021
COI statement
The authors declare no conflict of interest.
Disclaimer: AAAS and EurekAlert! are not responsible for the accuracy of any press releases posted on EurekAlert! by contributing institutions or for the use of any information via the EurekAlert system.