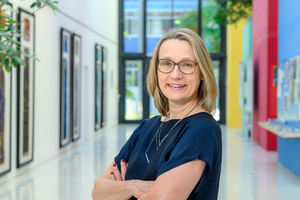 On November 1, 2022, Prof. Maike Sander will take over as Scientific Director and Chair of the Board of Directors of the Max Delbrück Center for Molecular Medicine of the Helmholtz Association (MDC). The MDC Supervisory Board officially appointed her to this position on Thursday, June 16, 2022. The MDC, which celebrates its 30th anniversary this year, is one of five health centers of the Helmholtz Association of German Research Centers . Internationally renowned researcher and experienced science manager Maike Sander will succeed Professor Thomas Sommer, who has led the MDC on an interim basis since 2019. This will make Sander the first woman to lead one of Helmholtz's health centers.
"The MDC has distinguished itself as an internationally renowned center for highly innovative biomedical research," says Maike Sander. "The work at MDC is laying the foundation for better medicine of the future. The MDC offers an exceptional environment for research and attracts talent from all over the world. I had the opportunity to experience this as a visiting professor at the MDC. As Scientific Director, my goal will be to further strengthen MDC's role as a leading biomedical research center and to deepen partnerships with other institutions in Berlin and beyond, so that our discoveries can be rapidly transformed into medical innovations. Sander emphasizes that "medical innovation needs basic science, clinical science and strong industrial partners – components that are all part of Berlin's vibrant biomedical ecosystem," she points out. "The Berlin region is transforming into a thriving biotech pharma hub and I see MDC as the main driver of innovation in this landscape. I really look forward to working with all stakeholders in Berlin.
New therapeutic approaches for diabetes
Maike Sander's research focuses on identifying new therapeutic approaches for diabetes. To this end, Sander is studying the molecular mechanisms that underlie the formation and function of different types of cells in the pancreas, particularly insulin-producing beta cells. Her goal is to identify strategies to replace beta cells in diabetes using beta cells derived from human pluripotent stem cells.
Since 2012, Sander has served as Director of the Pediatric Diabetes Research Center at the University of California, San Diego (UC San Diego), where she is also a professor in the departments of Pediatrics and Cellular and Molecular Medicine. In Berlin, Maike Sander will be appointed professor at the Charité – Universitätsmedizin.
German Minister of Research: an outstanding scientist with international experience
"Maike Sander is an outstanding scientist with a proven track record of innovation in biomedical research," says Bettina Stark-Watzinger, from Germany Federal Minister of Education and Research. "I am delighted that we were able to bring her back to Germany after many years in the United States and win her over as the new scientific director of the Max Delbrück Center. It demonstrates Berlin's attractiveness as a hub for biomedical research. As a scientist and administrator, Professor Sander is a perfect fit for the MDC whose mission is to improve human health through transformative biomedical research. Also, having a female leader is an important signal. The appointment of Professor Sander represents a significant gain for German research.
Berlin Senator for Higher Education and Research, Health, Long-Term Care and Gender Equality, Ulrike Gote, says: "In the person of Professor Maike Sander, the Max Delbrück Center has won an internationally renowned scientist as its new Scientific Director. I warmly welcome her to the science and healthcare metropolis of Berlin. Professor Sander's expertise and experience provide the ideal context for the future development of the MDC and to increase the international visibility of the vibrant life science community at the MDC and in Berlin. As the senator responsible for higher education, research and gender equality, I am delighted to see a woman at the head of a Helmholtz health center.
Wiestler: The Helmholtz Association will benefit enormously
"I got to know Maike Sander as a diabetes and stem cell expert when she was a visiting professor at the MDC," says Otmar D. Wiestler, President of the Helmholtz Association. "With her high scientific reputation and international experience, she is the ideal person to determine the future direction of the MDC as Scientific Director and Chair of the Board of Directors. With Professor Sander, we gain an excellent scientist whose expertise will be extremely beneficial to the Helmholtz Association. A critical area is the development of precision medicine approaches. The MDC is at the forefront of advancing research in this important area. I look forward to working with Professor Sander and having a lively exchange of ideas.
About Maike Sander
Maike Sander, from Göttingen, is 54 years old. After earning a medical degree from the University of Heidelberg Medical School in 1994, she conducted research at the University of California, San Francisco. Before joining UC San Diego in 2008, she held faculty positions at Hamburg Medical School and the University of California, Irvine. An expert in insulin-producing pancreatic beta cells, she has nearly 30 years of experience in diabetes medicine and research.
Sander is an elected member of the German National Academy of Sciences Leopoldina, the Association of American Physicians, and the American Society of Clinical Investigation. In addition, she is a member of two NIH consortia: The Human Islet Research Network and the NIH Impact of Genomic Variation on Function Consortium, which seeks to define the basic mechanisms of gene regulation.
She is the recipient of the Grodsky Prize from the Juvenile Diabetes Research Foundation, the 2022 Albert Renold Prize from the European Association for the Study of Diabetes, and the Alexander von Humboldt Foundation Research Prize. Since 2019, Sander has been a Visiting Einstein Scholar at the Berlin Institute of Health at Charité (BIH).
More information
Sander Laboratory and Publications at the University of California, San Diego
contacts
German Federal Ministry of Education and Research (BMBF)
Press Division; social media; the Internet
Kapelle-Ufer 1
10117Berlin
+49-(0)30-1857-5050
[email protected]
Jutta Kramm
Head of the Communication Staff Unit
Helmholtz Association (MDC) Max Delbrück Center for Molecular Medicine
+49-(0)30-9406-2140
[email protected] or [email protected]
Max Delbrück Center for Molecular Medicine (MDC)
The Helmholtz Association's Max Delbrück Center for Molecular Medicine (MDC) is one of the world's leading biomedical research institutions. Max Delbrück, originally from Berlin, was a Nobel laureate and one of the founders of molecular biology. At the MDC sites in Berlin-Buch and Mitte, researchers from around 60 countries analyze the human system and study the biological basis of life, from its most basic building blocks to systemic mechanisms. By understanding what regulates or disrupts the dynamic balance of a cell, an organ or the whole body, we can prevent diseases, diagnose them earlier and stop their progression thanks to appropriate therapies. Patients should benefit as soon as possible from the discoveries of basic research. The MDC thus supports the creation of spin-offs and participates in collaborative networks. It works in close partnership with Charité – Universitätsmedizin Berlin in the jointly run Center for Experimental and Clinical Research (ECRC), the Berlin Institute of Health (BIH) at Charité and the German Center for Cardiovascular Research (DZHK). Founded in 1992, the MDC today employs 1,600 people and is funded 90% by the German Federal Government and 10% by the State of Berlin.
---
Disclaimer: AAAS and EurekAlert! are not responsible for the accuracy of press releases posted on EurekAlert! by contributing institutions or for the use of any information through the EurekAlert system.