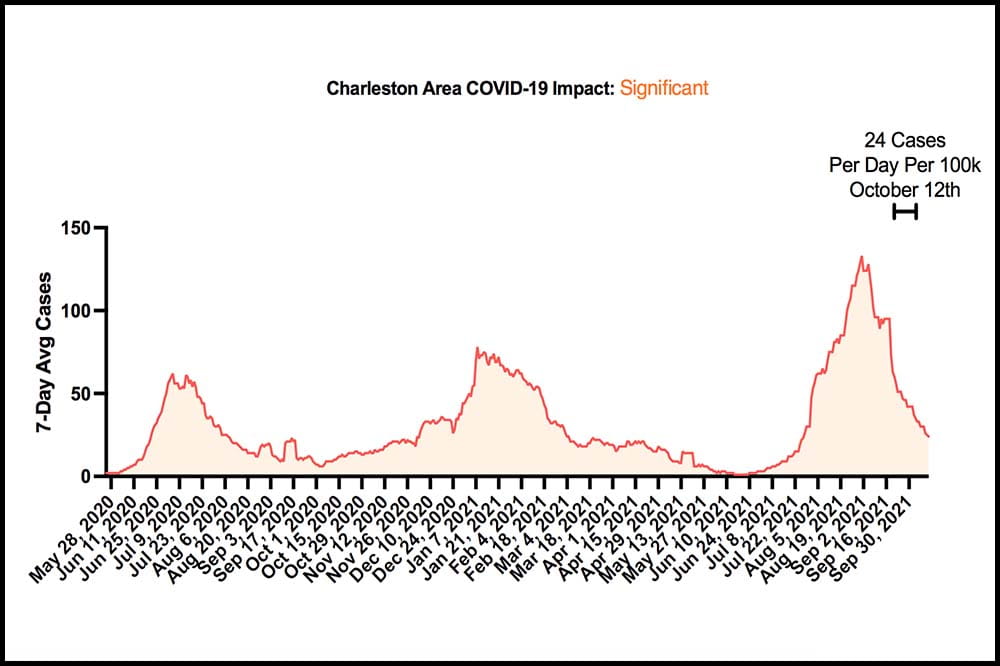 The pandemic that seemed so wildly unpredictable at first has settled into a pattern. And the 28% decrease in COVID cases this week in the Tri-county area appears to be part of it.
"There's this weird two month thing going on. We all picked it up, "said Michael Sweat, Ph.D., head of the South Carolina Medical University's COVID-19 monitoring team, referring to his fellow scientists. "I mean, it's like every time you get a wave it goes up, peaks and goes down in about two months,"
You can see it in his team's chart tracking the trajectory of COVID cases in the Charleston area. The first wave started in June 2020 and descended in August. The second significant wave started in November and started to decline in January.
During this time, people started to get vaccinated. The number of cases has plunged. Then, in July 2021, the Delta variant began its journey to a new pandemic high. It peaked and declined in two months.
"There are a lot of questions in the world of epidemiology around what drives the two-month cycle. Is this something innate to the viral situation? I think maybe it's the people changing their behavior, and maybe it's going through the people most at risk at that time, "Sweat said.
Unfortunately, he predicts it could happen again this winter. "It just seems hard to believe we wouldn't have another wave. Signals from other places are not very reassuring. In the UK, around 93% of people have been infected or vaccinated. And yet they see these resurgences, "Sweat said. "I think we're going to get to an endemic situation, but I just don't think we're there yet. "
But we're at a point where the percentage of people diagnosed with COVID who end up in hospital is dropping, Sweat said. "I'm surprised we don't hear more about it. It was around 25% in the first wave, then in the winter wave it was around 15% – maybe less. And then in this current wave, we're here at about 10%. It is anything to suggest that immunity is starting to work.
This could bode well for a possible winter wave. For now, Sweat is happy to see the number of COVID cases drop. For the week of October 5 to 11, there were about 1,400 cases of COVID in Berkeley, Charleston and Dorchester counties combined, up from nearly 2,000 the week before.
The COVID monitoring team also reduced the estimated impact of COVID on the Charleston area from "severe" to "significant" as the number of reported cases per day per 100,000 people fell to 25. It is the lowest since the end of July.
But Sweat, a MUSC medical school professor and also affiliated with the Johns Hopkins Bloomberg School of Public Health, warned against what he called magical thinking. "When it gets better, you have this very optimistic prejudice saying, 'Oh, it's going.' I'm just worried people will see those numbers go down and throw caution to the wind. This is dangerous because it is what frequently causes these surges.