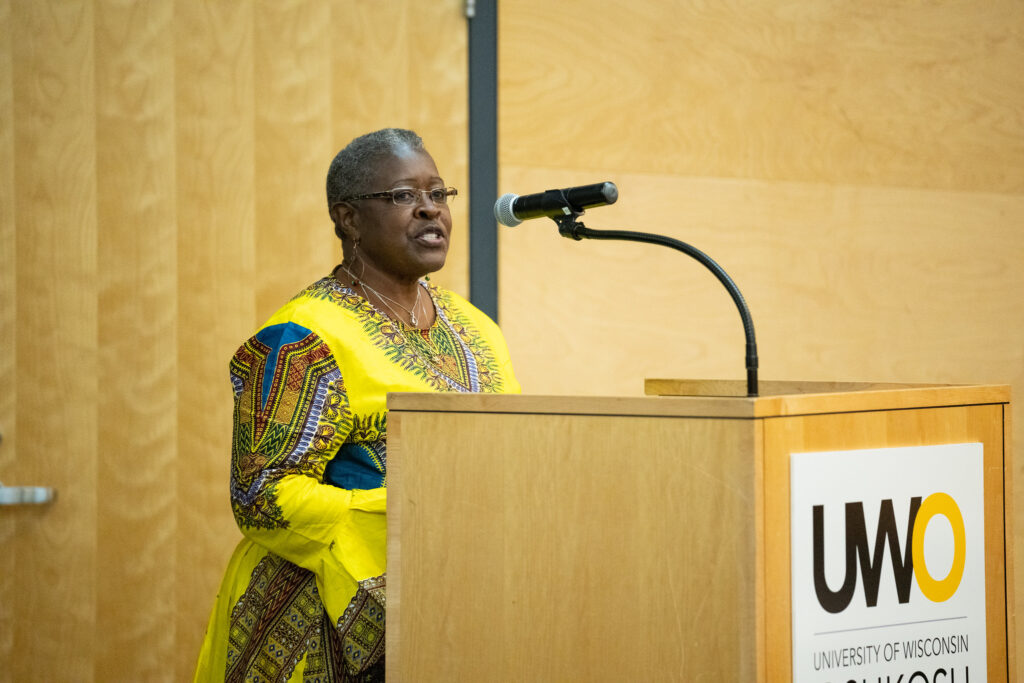 OSHKOSH, Wisconsin – The University of Wisconsin System Board of Trustees today honored the recipients of the First Academic Staff Awards. These awards recognize outstanding service to the university and are the UW System's highest recognition bestowed on its academic staff.
"The Board of Directors is proud to recognize the inaugural recipients of the Academic Staff Excellence Awards," said Regent Michael M. Grebe, Chair of the Selection Committee. "Their exceptional work helps strengthen not only our UW campuses, but also the communities in which they serve, and we are excited to highlight their contributions to achieving the mission of the UW System. "
Award recipients are selected for superior performance resulting in significant contributions to the department and to the university; use of positive personal interactions to manage job changes; and a constantly innovative approach that improves productivity and the quality of work. Each recipient receives $ 7,500 to support professional development or program improvement.
The 2021 recipients include two people and a program:
Brenda Cullin, Academic Department Associate / Office Manager, Department of Economics, UW-Milwaukee
"Over the years, I've strived to be good at what I do, whether it's my job at UWM or my volunteer work in the surrounding community," said Cullin, who served UW-Milwaukee for 42 years old and has been a member of the Department of Economics since 2011.
Cullin added that she made it a priority, especially as a black woman, "to be an advocate for students, especially students of color, and a voice for the voiceless on our staff."
Monika Pynaker, Manager of Network Services and Acting Manager of Client Services, Information Technology Division, UW-Green Bay
"It starts with getting involved, whether it's governance units or campus events," said Pynaker, a member of UW-Green Bay's information technology division since. over 20 years. "Learn as much as you can about your university's vision and mission… and find out how to align your work with those goals. "
She said that it is important to embody the following traits to be successful: "Be kind, be honest, work hard, treat campus resources as you would your own, encourage relationships, lead from where you are from." and be up to the occasion.
Options Program, University Police Department, UW-Parkside
The UW-Parkside Police Department received its official You Have Options Program (YHOP) certification in August 2020, making it the first police department in Wisconsin and the second in the country to add this specialized approach to working with survivors of sexual assault.
"The You Have Options program is the epitome of collaboration," said Kelly Andrichik, UW-Parkside police officer, who began the successful implementation of YHOP in 2017. "Although it is of a law enforcement-led program, it would not exist without collaboration. partners at the university and in the community.
"I can't wait to bring this to Wisconsin," Andrichik said. "This is an opportunity for students to introduce themselves to law enforcement and work with the criminal justice system in a way they never thought possible."
The Academic Staff Awards join a family of awards that the Regents sponsor, including the Regents Teaching Excellence Awards, the Regents Academic Staff Awards and the Regents Diversity Awards.
See the UW System press release: Regents announce academic staff excellence awards for 2021
Wisconsin Intercollegiate Athletic Conference (WIAC)
UW-Platteville Chancellor Dennis Shields, current Chairman of the WIAC Council of Chancellors, and WIAC Commissioner Danielle Harris, gave an overview of the conference, which includes eight UW schools.
Harris told Regents WIAC is widely recognized as the nation's premier Division III athletic conference, with 118 NCAA championships since the 1982-83 academic year in 15 different sports. She added that WIAC also consistently ranks at the top of the Division III Learfield Sports Directors' Cup standings.
The conference, which supports 21 sports, has also assumed an important leadership role in the governance structure of the NCAA and has been recognized for its advancements in gender equity and the community activism of its student-athletes.
Over 5,000 student-athletes participate in the WIAC competition each year.
Several athletes from UW Oshkosh reflected on their experiences in WIAC athletics.
"One of the things I noticed from the start, my coach, teammates, team members and the sports department were all on my side to support the pool competition and also to support my studies." , said swimmer Cody Else, a senior major. in primary education, who hopes to become a school counselor.
Gymnast Rahdea Jarvis said the lessons learned in athletics include the importance of good team chemistry, leadership, time management and being a role model for others. With a degree in business administration, she intends to pursue studies in law.
Former WIAC Commissioner hailed
Former WIAC Commissioner Gary Karner, who retired last year after 24 years at the helm of the conference, has been recognized for his outstanding service.
Chancellor Shields noted that WIAC is a force in Division III, and he thanked Karner for his dedication and hard work to help make it happen.
In addition to a Certificate of Commendation signed by Governor Evers and a Certificate of Meritorious Service from UW System and the Board of Directors, Regent Vice President Karen Walsh presented Karner with a resolution of assessment on behalf of the board of directors.
Karner said it was his privilege to work with so many chancellors and coaches who would act on behalf of the conference as a whole.
"Most importantly, I would like to thank the tens of thousands of student-athletes who have participated in WIAC over the years and who have always given it their ultimate," said Karner.
In other matters, the Council of Regents:
Approved a resolution of appreciation for UW Oshkosh hosting the October 2021 meeting;
Approved the report on UW System Program Income Balances for Fiscal Year 20-21;
Approved UW System's request for an amendment to an existing contract with BP Logix for an electronic business process workflow management system originally provided for UW-Milwaukee, and since made available to all UW System institutions;
Approved the collective agreement negotiated between UW System and the Building and Construction Trades Council (BTC) of South Central Wisconsin;
Approved the collective agreement negotiated between UW-Madison and the Building and Construction Trades Council (BTC) of South Central Wisconsin;
Approved a space use agreement between UW-Milwaukee (UWM) and US Cellular Operating Company LLC;
Approved a five-year master clinical trial agreement between UW-Madison and Bristol-Myers Squibb;
Approved a clinical study framework agreement between UW-Madison and Alexion Pharmaceuticals;
Approved a primary clinical trial agreement between UW-Madison and OM1;
Approved a primary research agreement between UW-Madison and Diamond V Mills, LLC, a subsidiary of Cargill, Inc .;
Software and implementation service agreements approved between UW System and Huron Consulting Services LLC;
Authorized the execution of a memorandum of understanding with University Research Park, Inc., (URP) to partner with UW-Madison in the development of properties that advance the institution's mission;
Approved an amendment to DPR 12-1, "Competition with the private sector";
Approved a request from UW-Parkside and Gateway Technical College (GTC) for a new liberal arts transfer program for the Associate of Science in Liberal Arts and Associate of Arts in Liberal Arts;
Approved UW-Madison's application for seven e-learning initiative degree programs:

Bachelor of Business Administration in Marketing
Bachelor of Business Administration in Management
Bachelor of Business Administration in Human Resources
Bachelor of Science in Human Development and Family Systems
Bachelor of Science in Consumer Market Studies;
Bachelor of Science in Consumer Finance and Financial Planning;
Bachelor of Liberal Studies in Applied Social Sciences

UW-Whitewater revised mission statement approved;
UW-Stout revised mission statement approved;
Approved the proposal to update the charter of the Office of Internal Audit;
Approved the budget and resource plan for fiscal year 2022;
Approved UW Oshkosh's request to build the Clow Hall / Nursing Education, Phase II project;
Approved UW-Madison's request to accept a donation of 1.50 acres of land located north of Wisconsin Dells and adjacent to the Upham Woods field station;
Approved UW Oshkosh's request to pay a special assessment from the City of Oshkosh;
Approved UW-Stout's request to build the south hall addition and renovation project;
Approval of the application for authorization from UW System for the construction of three projects for the renewal of minor installations:

Installation of new sets of conductors and new electrical conduits at UW-Madison;
Replacement of elevators in seven UW-Madison facilities (Babcock Hall, Bascom Hall, Below Alumni Center, Elvehjem Museum of Art, Ingraham Hall, Lathrop Hall and Memorial Library);
Removal of 1970 dust collection systems for Laboratories 157, 158 and 170 in the Jarvis Hall technical wing of UW-Stout;

Approval of the application for authorization from UW System for the construction of four maintenance and repair projects of all agencies:

Paving of the Kress Center and Studio Arts parking lots and two pedestrian walkways at UW-Green Bay;
Increase UW-Madison's budget for the transmission utility and WHA drive replacement project to accommodate recent offers;
Replacement of the main water line in the southeast quad at UW-Milwaukee;
Installation of a new telecommunications conduit at UW-Stout; and

Approval of the cancellation of RPD 19-1, "Prorated costs for heating / cooling installations" and RPD 19-8, "Financing of investment costs of university facilities", in order to create a new policy, "Capital funding of the university's facilities, space and physical development." and costs.
---
The next meeting of the Board of Regents of the University of Wisconsin System will be on November 4, 2021 in Madison.