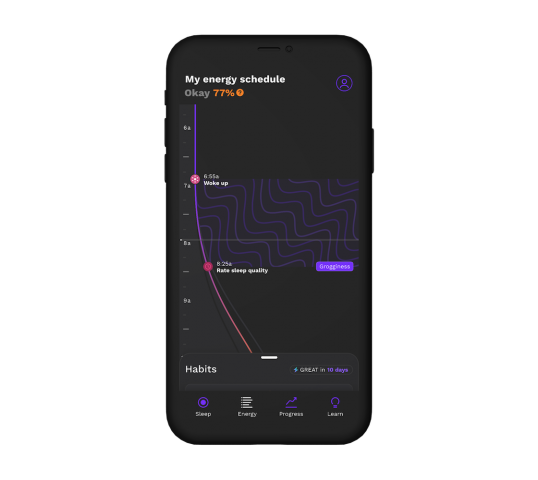 San Francisco, USA – April 1, 2022 /MarketersMEDIA/ —
This announcement is in line with the company's commitment to helping users realize their full potential for productivity, performance and well-being by improving their sleep habits.
More information is available at https://risescience.com
People who feel drowsy during the day can now get insights from this app on their sleep habits along with methods to improve their sleep habits for more energy.
The CDC recommends a minimum of seven hours of good-quality sleep for adults, but sleepfoundation.org reports that about 70% of Americans can be sleep deprived — with serious results. Insufficient sleep can affect the brain's ability to concentrate and function and can weaken a person's immune system.
Many people mistakenly think that they need the best pillow, mattress, and blanket. The RISE team explains that sleep hygiene does not rely on these elements. Instead, it includes behaviors throughout the day that may not appear to be related to sleep, but may either interfere with or promote better sleep.
As explained on the Rise Science website, sleep deprived people often subjectively adapt to deprivation and acquire sleep debt, resulting in less than optimal cognitive function even when they think they are functioning at full capacity. .
Fortunately, an individual can improve their sleep hygiene by paying off their sleep debt and reversing the problems caused by deprivation.
Another way for an individual to improve their sleep hygiene is to work with their circadian rhythms and plan their work and rest around their daily highs and lows.
The RISE software application, which benefits from the scientific concepts of sleep debt and circadian rhythms, uses the gyroscope and motion sensors of iPhones and Androids to track sleep and recommend ways to improve sleep and energy.
Rise Science co-founders Leon Sasson and Jeff Kahn drew on their knowledge of sleep science and behavioral science to design this app that syncs with devices like Apple Watch, Fitbit, Garmin, and Oura.
The RISE team recommends that individuals know their own sleep needs so they can modify their behaviors to improve their circadian rhythms and sleep.
A spokesperson for Rise Science says, "We want to make the world healthier, more enjoyable, and more productive by championing natural sleep, so we're going beyond tracking sleep time and vague gestures about sleep quality. . We want our users to experience the ongoing, real rewards of becoming sleep conscious.
Interested parties can find more information at https://risescience.com
Contact information:
Name: Lola Feiger
Email: Send Email
Organization: Rise Science
Address: 548 Market St, San Francisco, CA 94104, USA
Website: https://www.risescience.com
Build ID: 89072348
COMTEX_405073438/2773/2022-04-01T01:06:11