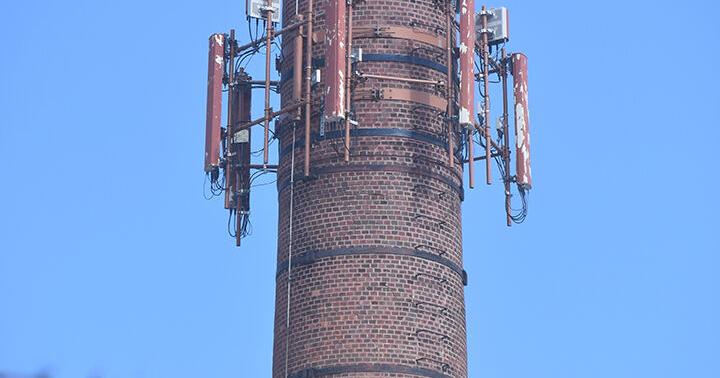 The local school board (LSC) at Sutherland Elementary School voted unanimously against renewing two contracts for cellular equipment installed on a chimney at the school.
Cell tower equipment will begin shutting down this summer, after the LSC voted 10-0 on Feb. 15 following the school community leading a petition to remove the equipment.
More than 260 people have signed the petition and several people have expressed health concerns about the equipment in recent meetings.
"Any local school board's process has to listen to the community – and the voice of the community was very clear," said Sutherland principal Meg Burns, who was among the contract voters. "We are mandated by our neighborhood to serve families in our neighborhood. As such, the vote was obvious.
According to CPS, Sutherland has two cell tower contracts – one with Cingular, which expires June 30, and another with Verizon, which expires in June 2023.
The online petition was about the Cingular contract, but LSC president Jimmie Ambrose said the vote would end the deals for both contracts when they expire.
Ambrose has previously said he believes the cell tower equipment is safe.
He said he voted not "not to say the technology is harmful", but "because we haven't been given a contract to vote".
He also noted that the LSC had requested that a CPS lawyer attend the private executive session of the February 15 meeting, but that did not happen after the lawyer accepted the offer during a meeting. previous meeting.
"So I had no choice," Ambrose said, "but to vote no because of those factors."
He said CPS attorneys informed him that Cingular would not be able to remove its equipment and find an alternate location to maintain service in the area by June 30, so it is likely that the equipment will remain for an indefinite period after this date.
According to CPS officials, Cingular and Verizon have been informed that their contracts will not be renewed; Typically, it takes 18 months for a cell tower location to be fully downgraded from a CPS site, and cell towers will remain active during this time.
There are 91 CPS schools that have cellular antennas on their premises, officials said.
"CPS aims to provide a safe and healthy environment – ​​inside and outside district buildings – for our students, staff and families," a spokesperson said. "The district is working with school communities and our vendors to reach amicable agreements to safely and smoothly implement any changes to services, products and the school campus environment."
An LSC member abstained from voting due to a parent working at the school.
Both deals cost $30,000 a year, and Sutherland receives one-third of the revenue, $20,000, from the contracts.
According to CPS, Sutherland has an enrollment of approximately 600 students, so as the petition states, the contracts provide the school with approximately $33 per child per year.
Becca Blue, a parent at the school, pleaded during the public comment portion of the Feb. 15 meeting to remove the equipment, just as she has done in previous meetings.
"We are a neighborhood school," Blue said. "Our neighborhood has spoken. He spoke loudly, passionately.
Blue has previously said there are no prizes for the potential health problems a cell tower could cause. The petition raised concerns about students who attend classes near cellphone towers and who may experience cognitive dysfunction, dizziness, headaches, nausea and memory loss.
According to cancer.org, cell towers emit radio frequency (RF) waves. Currently, the website says, the towers show no signs of trouble.
"Cell towers are still relatively new, and many people are rightly concerned about whether the RF waves they emit could have health effects," the site says. "Currently, there is no strong evidence that exposure to RF waves from cell phone towers causes any noticeable health effects. However, this does not mean that RF waves from cell towers have proven to be absolutely safe. Most expert organizations agree that more research is needed to help clarify this, especially for any possible long-term effects.
In meetings leading up to the vote, members of the school community said they would help with fundraising to replace lost revenue resulting from a non-renewal of a contract.
Burns expressed confidence in that pledge.
"They all said they had a stake in the school and if that meant they had to work harder to raise funds to ensure we would be able to pay staff and pay for things. our families need, they would be there for us," Burns said, "and I believe that.
Burn, who has been a director since 2017, said that while she is in Sutherland – and while she is in Sutherland – the LSC will serve the interests of the community first. This was demonstrated by the overwhelming vote.
"Our local school board is unified," she said, "in making decisions that affect our community."