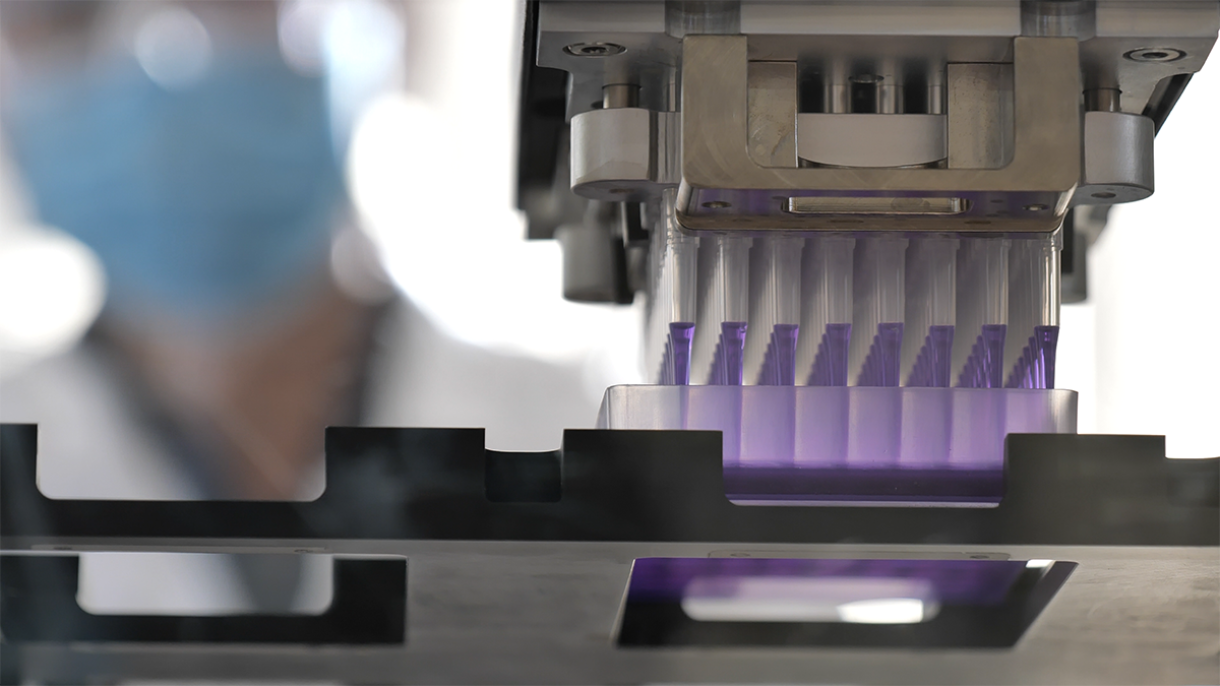 PROVIDENCE, RI [Brown University] — Brown University has selected a dynamic and versatile architecture team to design its future integrated life sciences building in the Jewelry District of Providence. The building will create new laboratory space for high-impact research that can lead to breakthroughs on pressing health issues.
Deborah Berke Partnersa firm based in New York, and Ballinger, a Philadelphia-based team of architects, engineers, planners and designers, will work in partnership with the University. Together, they will use their collective talents, skills, and experiences to design a building that enables cutting-edge collaborative life science research while helping to further invigorate the neighborhood.
A vote by the Corporation of Brown University at its fall meetings in October approved the selection of the architecture team, marking an important next step toward realizing Brown's long-standing vision of creating a cutting-edge life science research close to its Warren Alpert School of Medicine, School of Public Health, School of Engineering, and affiliated hospital partners.
University architect Craig Barton, who managed the selection process, said the committee members who recommended the two firms' design team were impressed with the companies' portfolios as well as their common concern to work together and with a wide range of stakeholders.
"This unique collaboration between Deborah Berke Partners and Ballinger will bring to the project a world-class approach to academic building design as well as exceptional technical skills in creating laboratory and science spaces," said Barton. "It's an incredibly powerful combination, and we're excited to have both partners on board as we begin the process of turning our vision for this integrated life sciences building into an active project."
Shared values, shared vision
After announcing his plans for the building in June 2022, Brown first reviewed a slew of interested architectural firms and narrowed down to a list of 14 who contributed proposals. With input from multiple stakeholders, the selection committee moved forward with seven companies, Barton said, and ultimately interviewed four finalists.
Among the most important factors, Barton said, were identifying design teams that had developed plans for academic research facilities, particularly in the life sciences. Experience working in urban environments where integration with existing neighborhoods is essential, along with high-level design integrity, exceptional skills working with a wide variety of community members, and a strong commitment to promoting sustainable design practices were particularly important.
Both Deborah Berke Partners and Ballinger have extensive experience working with academic institutions on complex, large-scale projects, and have also partnered individually with Brown, Barton said.
Deborah Berke Partners is leading the design of Brown's ongoing Brook Street Residence Hall project, which will create an innovative on-campus residential experience for third- and fourth-year undergraduate students.
"Not only do Deborah Berke Partners bring great skills as designers of urban projects, but they also have a nuanced understanding of how to work with an academic institution in which there are multiple internal and external stakeholders whose perspectives are essential. in the effort to develop a complex construction project," said Barton, a graduate of the Class of 1978 Brown.
Ballinger has considerable expertise in designing buildings that house research laboratories, he noted, including Brown's Sidney E. Frank Hall for Life Sciences, a LEED silver-certified building that provides space for the research in neuroscience, molecular and cellular biology and biochemistry. Opened in 2006, Barton said the project has held up remarkably well, with labs that haven't needed any substantial renovations or upgrades to date.
For Ballinger and Deborah Berke Partners, Brown's project won't be their first collaboration — the companies are currently partnering on the design of a large, environmentally sustainable science and engineering building at Yale University. Brown's selection committee evaluated the companies' approach to communication and collaboration on the Yale project and felt that it positioned them well to work together at Brown.
Designing for the science of the future
As planned, the Integrated Life Sciences Building will provide state-of-the-art laboratory space for researchers in biology, medicine, brain sciences, bioengineering, public health and other disciplines to working together on pressing health issues. Dr. Mukesh K. Jain, Dean of Medicine and Biological Sciences, said the creation of a new facility in the Jewelry District, which already houses the Warren Alpert Medical School and other life sciences spaces life, would provide much-needed space for existing research centers to grow and for new ones to flourish.
"It's exciting to reach this next milestone for the Integrated Life Sciences building," Jain said. "Brown's research community continues its robust growth, and this new facility will enable cutting-edge science that will ultimately lead to therapies and interventions for patients.
Due to the nature of how scientific research is conducted in labs, Barton said architects need to think not just of the building's first occupants, but also of those who will use it in the future. This forward-thinking flexibility is part of Ballinger's approach, said Terry Steelman, the company's senior manager and one of Brown's ILSB project managers.
"We aim to meet the work needs of early occupants and current science, but not to be so specific and personalized that the space cannot evolve as science – and scientists – change," Steelman said. , who played a leading role in Sidney E. Frank Hall's design for the life sciences.
"These buildings are long-lived and accommodate a wide range of occupants, in some cases on a short-term basis," Steelman said. "So much will change over the life of the building. When we designed Sidney Frank Hall, for example, gene therapy was still gaining momentum, and now it's a mainstream aspect of academic research. Who knows what amazing new discoveries will take place at the Brown Integrated Life Sciences building? We have to make sure that the space can accommodate this research.
Steelman cited the Wisconsin Institutes for Discovery at the University of Wisconsin-Madison and Colket Translational Research Building at Children's Hospital of Philadelphia as examples of large-scale Ballinger projects designed for interdisciplinary teams and the changing needs of scientists and researchers over time.
The ILSB must also be able to fit into an evolving neighborhood like the Jewelry District, which has seen significant growth in business in recent years as Brown and private developers have turned empty or derelict spaces into new projects. . That's something Deborah Berke Partners excels at, said Brown Class of 1997 graduate Noah Biklen, who will lead the design team for the ILSB project.
"At Deborah Berke Partners, we design spaces for collaboration and community, places where great things happen," said Biklen. "We also bring humanistic values ​​to our work. We pay a lot of attention to developing the character of a building and putting it into context.
Citing Brown's commitment to reduce campus greenhouse gas emissions to net zero by 2040, Biklen said the companies will work closely with the University to design a highly sustainable science building.
"As a team with Ballinger and Brown, we are excited to design an integrated life sciences building that serves world-changing researchers as well as people in the surrounding community," Biklen said.
With the selection of the architecture team, project managers from Brown, Ballinger and Deborah Berke Partners will now initiate an in-depth programming phase to assess factors ranging from space needs and site requirements to conceptual design. and projected scale and scope, along with estimated project costs and sources of funding. This process will bring together internal and external stakeholders. And while a target timeline for the entire project will emerge during planning, the University estimates construction completion within four to five years.